Yes!

Rock on!

That's what

frank agterberg/bca

does! As soon as sales had sailed, the authentic

Lee®

denim brand invited us to team up for the implementation the concept of their

New Collection

window campaign, presenting their three new fits,

Carol

,

Austin

and

Luke

, in Lee® stores all over Europe. And of course we kept in mind that Green Rocks!
Have you been introduced to Carol, Austin and Luke yet?
Carol

is not your everyday regular straight. Coming in 5 colours, she has a flattering mid-rise waist and is close-fitting round the hip, making her your perfect all-year-round jeans. 
With his mid-rise waist and zipper, slim tapered

Luke

knows how to combine a men's slim fit jeans with a tapered one, resulting in a fit that is both relaxed and contemporary. 
His sturdier mate

Austin

is a regular tapered fit with a slightly higher waist, with zipper also. The back pockets are slightly asymmetric, providing him with a contemporary look.
Transparency – 'cause seeing is believing
"Words, words, words, but an image…" We know. So we maximized the power of visibility and produced a two-step visual experience for passers-by. Walking past your Lee® store, not only do the mannequins on raised platforms grab your attention, as do the bold call-outs on the shop-window. What strikes the eye most, is the fact you can both see the new fits on display and look straight into the store. A tempting peek at the story of the latest collection continuing in-store with wall racks and centre-lead tables highlighting the look and feel of the three fits.
​​​​​​​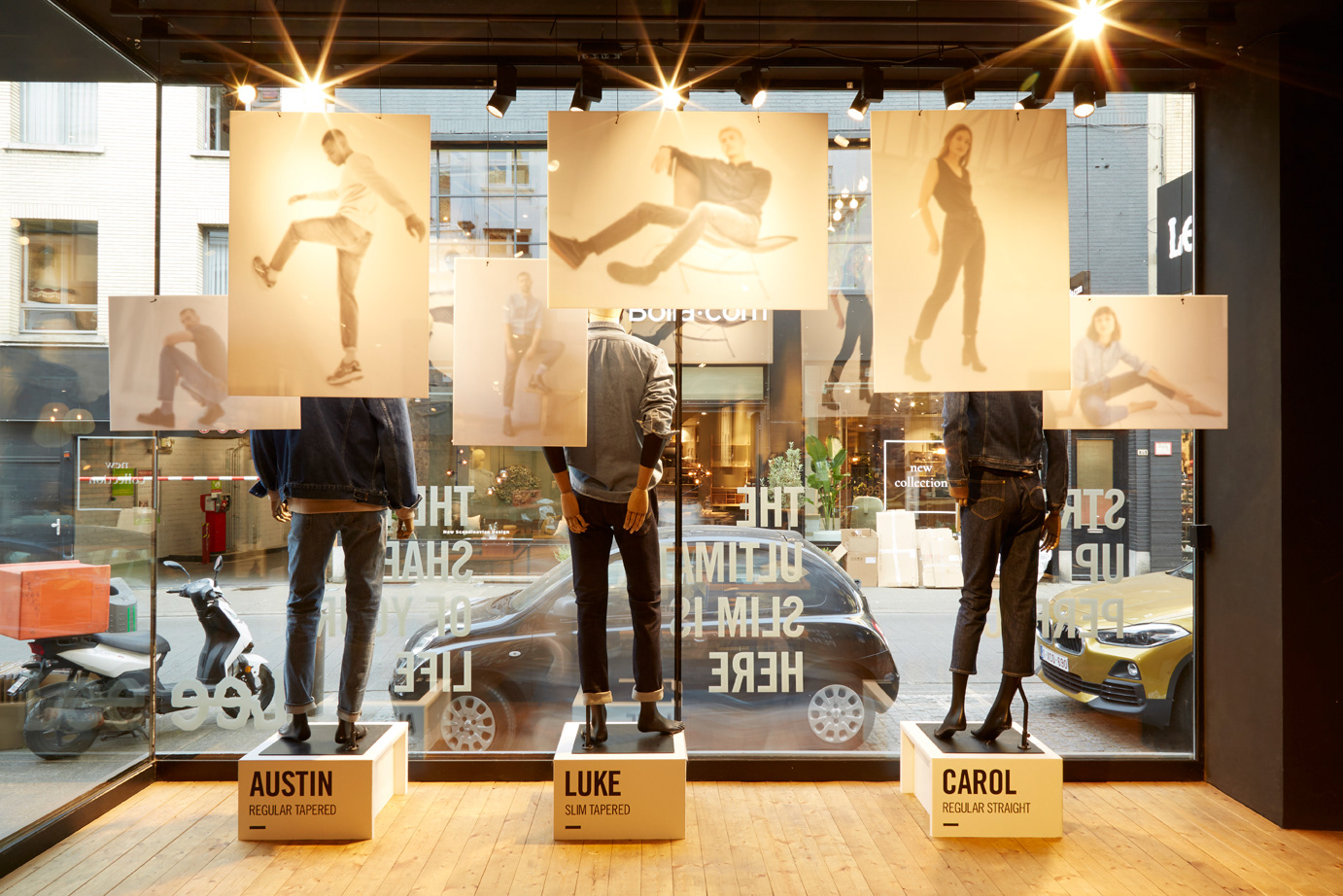 Printing the campaign pictures of the new fits in overlay onto semi-transparent acrylic panels and smartly positioning these panels, we provoked the attention the new Lee® collection deserves, guiding prying eyes straight towards their fashionable prey. Along the way we designed, produced and delivered everything in this campaign according to our Green Rocks charter, striving once more for a sustainable use of materials. For the manufacturing of the mannequin stages we used Re-board, an eco-friendly material that is almost entirely made of waste from the timber industry and can therefore be disposed of easily with the regular paper-waste. 
The acrylic panels can be recycled to new acrylic materials without the use of new natural resources.